California Adaptive Rowing

Program
We are a nonprofit organization. Our mission is to provide instruction and training for competitive and recreational opportunities in the sport of rowing to physically and intellectually challenged individuals. Participation in physical activities is essential to prevent people with disabilities from surrendering themselves to confinement. Participants gain self-esteem and a sense of accomplishment.
---
Home About Volunteer Photos Links Contacts
---

Angela Madsen founded California Adaptive Rowing Programs in 1999. Madsen is also a US Rowing certified level III Coach.

Angela and (Frank Festor) are officially registered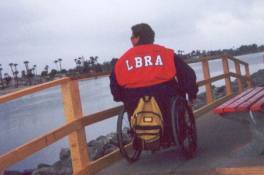 to participate and will be attempting to row, unsupported, across the Atlantic Ocean . A voyage of 2,550 nautical miles from La Gomera, in the Canary Islands to Antigua, in the West Indies . Guinness Book of World Records, Angela will be the first woman with a disability to cross the Atlantic by oar!

Go to rowoflife.net for more information.
California Adaptive Rowing Program
Angela Madsen
Phone (562) 505-4157 or (562) 434-8334
E-mail: Msparasurfer@aol.com
Vicki Stevens
E-Mail: sylvestervg@aol.com
Phone: (562) 673-6354